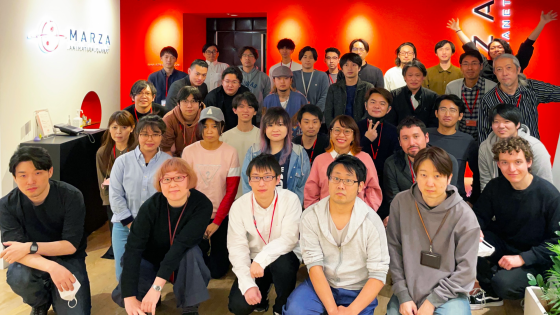 WHAT'S MARZA?
Be a part of MARZA ANIMATION PLANET,
work together in the good production environment!
Artists came together from all over the world to work at the cutting edge of creation. We are waiting for your entry.
Let us introduce our workplace.
PEOPLE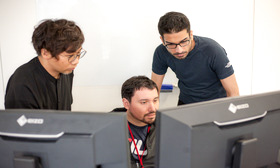 Talented artists from all over the world
MARZA has not only the Japanese artists but also the experienced artists all over the world. Conversations are made in multiple languages.
Staffs cultivate communication abilities and learn world-class expression through work.
Cosmopolitan atmosphere

Many staffs from overseas are working in MARZA office. They are actively engaging in social interaction even outside the company. Greetings are exchanged in several languages that were learned through conversation. In close communication, artists foster trust and respect for each other.

Dress code?

Company sets up no particular dress code.
Most people wear casual clothing to work, like comfortable shirts and jeans.

Attitude to work

MARZA puts great value on a respectful relationship. Without respect, no good work can be produced. Many MARZA staffs are considerate to others and self-organized.
OFFICE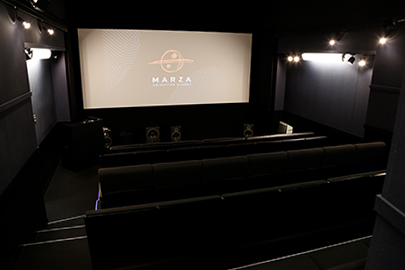 The Screening Room with giant 200-inch screen!
MARZA makes various types of work – feature film, video game movie, animated projection for concert and more.
In order to deal with any needs, company puts emphasis on investment in equipment and work environment. Especially our pride is the Screening Room. We check dailies on a 200-inch large screen.
Location

Tennoz Isle is a calm business district on the waterfront.
The workplace gets plenty of sunlight in the daytime and its windows provide a great view of Tokyo Tower at night.

Facilities

Other than the Screening Room, we have a lounge for staffs to get relaxed or have meals.

Company events

Screenings of delivered projects and seasonal events are held periodically. Even staffs assigned to different projects can deepen exchange with each other.
TREATMENT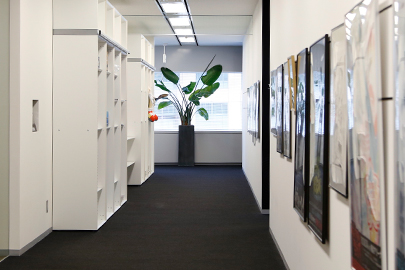 Benefits based on work-life balance. Both mothers and fathers take childcare leave actively
MARZA puts emphasis on staffs' work-life balance. Special leaves are granted for the Golden Week holidays, Obon holidays and the year-end and New Year holidays. In addition to the paid vacation, MARZA has a leave system called Refreshment Vacation. We want every staff to spend quality time with the family and enjoy a private life.
The total number of annual holidays is 131 days (in fiscal 2019).
Upskilling program

We provide in-house training system for technical skill development. Artists take an on-site class or video lecture by top-quality teachers.

Increasing your technical skills

Technical information exchange and internal seminar are actively implemented.
Staffs are encouraged to enhance knowledge and skills more than their job scope.

Working hours

Artists usually leave work on time unless they are ruched before a deadline.
ARTIST
See interviews of chief artists who supervise each production team.
We are looking for like-minded artists who want to create top-quality works together.
To creative artists,
MARZA is very serious about creating better work condition and environment.
We want every staff to concentrate on their task, and enjoy their lives after work.
Every artists, regardless of where they are from, are highly motivated and deeply in love with making movies.
MARZA provides you an opportunity to advance your career.

Does anyone want to work with us?