VISIT OFFICIAL SITE FOR UPCOMING 'RESIDENT EVIL: VENDETTA'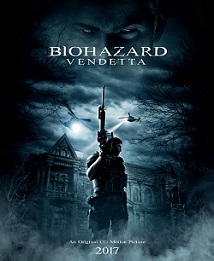 © CAPCOM / VENDETTA FILM PARTNERS. ALL RIGHTS RESERVED.
[TOKYO GAME SHOW 2016]
KADOKAWA and MARZA ANIMATION PLANET today released a teaser trailer for the upcoming CGI feature movie "RESIDENT EVIL: VENDETTA" at CAPCOM's booth.
[OFFICIAL WEBSITE]
Visit newly launched movie's website at http://biohazard-vendetta.com and be the first to receive the latest updates on Spring-2017 release 'RESIDENT EVIL' movie.
RESIDENT EVIL: VENDETTA hits theaters 2017 spring in Japan and overseas.
For more information, please go to http://www.marza.com/news/article/642/ (Japanese.)
"RESIDENT EVIL: VENDETTA" OFFICIAL SITE (Japanese)
http://biohazard-vendetta.com
TOKYO GAME SHOW 2016 Official site
http://expo.nikkeibp.co.jp/tgs/2016/
CAPCOM: TOKYO GAME SHOW 2016
http://www.capcom.co.jp/tgs/
Title: "RESIDENT EVIL: VENDETTA"
Executive Producer: Takashi Shimizu
Director: Takanori Tsujimoto
Writer: Makoto Fukami
Music: Kenji Kawai
Executive Supervisor: Hiroyuki Kobayashi (CAPCOM)
Production Co: MARZA ANIMATION PLANET
Distributor: KADOKAWA