RESIDENT EVIL: VENDETTA / Official theatrical poster and 2017 release date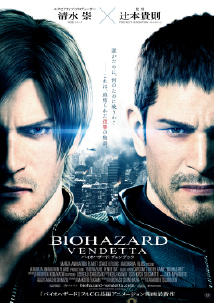 © CAPCOM / VENDETTA FILM PARTNERS. ALL RIGHTS RESERVED.
We are happy to annouce that the CGI feature movie "RESIDENT EVIL: VENDETTA" will now arrive in Japan on 27 May 2017.
Also, the new trailer will be screened first at the upcoming movie Resident Evil: The Final Chapter on 23 December in Japan before any other country in the world.
Advance tickets with privileges (for Japan Only) are scheduled to go on sale the same day.
Please watch the latest trailers in cinemas and stay up-to-date with exclusive movie news on the official site .
"RESIDENT EVIL: VENDETTA" OFFICIAL SITE (Japanese)
http://biohazard-vendetta.com/
"Resident Evil: The Final Chapter" OFFICIAL SITE (Japanese)
http://www.biohazard6.jp/
For more information, please go to http://www.marza.com/news/article/657/ (Japanese.)
Title: "RESIDENT EVIL: VENDETTA"
Executive Producer: Takashi Shimizu
Director: Takanori Tsujimoto
Writer: Makoto Fukami
Music: Kenji Kawai
Executive Supervisor: Hiroyuki Kobayashi (CAPCOM)
Production Co: MARZA ANIMATION PLANET
Distributors: Stage 6 Films(World-wide), KADOKAWA(JAPAN)